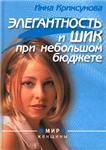 As you know, meet on clothes. This is evidenced by the popularity of the TV program "Fashionable sentence". The author - an experienced professional to create the image. The book is full of valuable advice. After reading it, you will learn how to emphasize their unique personality, to find his own style, and even become elegant chic, with a minimum spending of funds and making every purchase hit the mark.

You see page: Elegance and glamor with a small budget 2000
Author: Inna Kriksunova

Year: 2000


P. 153, fb2.
No feedback yet